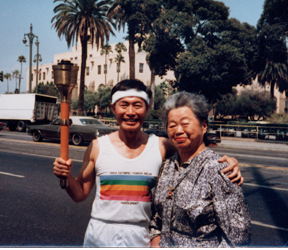 Fumiko Emily


Takei

Fumiko Emily Takei was born on September 29, 1912, to Benkichi and Shigeno Nakamura in Florin, California. Her father was a successful farmer who enjoyed boasting that he was the first in Florin to own a Model T Ford. Yet despite his success, his children were required to go to a segregated and thus inferior school in the rural Florin school district. So Fumiko, at age 8, was sent to Hiroshima, Japan, for her education and returned to California when she was 20.

In 1935, Fumiko met and married Takekuma Takei, whose life was the trans-Pacific reverse of her youth. She was born in the U.S. and educated in Japan. Her husband was born in Japan and educated in the U.S. It was a union of two opposites. But it had many benefits for both. Takekuma had a thriving dry cleaning business in Los Angeles. She had her American citizenship by virtue of her birth. Their union had practical advantages in a society that had placed many barriers against Japanese Americans.

A child was born to them a year later—a boy they named Furuto. Heartbreakingly, they lost him a few months after his birth. It was a devastating loss that Fumiko never forgot throughout her life. When a second child was born a year later, another boy, their joy was almost equaled by the extreme devotion they showered on this precious new infant. Takekuma named him George Hosato—George for King George VI of England. From that day on, Fumiko decided to call her husband "Daddy." A year later another boy was born, Henry Hozumi. Two boys in a row. Takekuma now began longing for a girl and two years later the wish was granted. His little princess was born—Nancy Reiko, named this time by Fumiko. The Takei family was a happy, growing clan.

The bombing of Pearl Harbor by Japan brought all this to an earth-shuttering end. Executive Order 9066, signed by President Franklin D. Roosevelt, threw the lives of all Japanese Americans into turmoil. It ordered them to leave the west coast to be imprisoned in barbed wire camps without charge, trial or due process.

The Takei family was forced out of their home on Garnet Street to be moved first to a "temporary assembly center." They could take only what they could carry. Everything else had to be sold or abandoned. Daddy was able to get five dollars for his car. Fumiko's refrigerator was brand new. Yet the only offer they got was one dollar. She refused to accept such an insult. When the soldiers came to take them away, the refrigerator was left behind. Years later, she told her son, the crowd of people across the street watching them being loaded onto a truck were looters waiting to break into their home. She said Daddy called them, "vultures."

The Takei family was taken to a horse stall at nearby Santa Anita Race Track and told that this was to be where they would stay. Fumiko was nauseated by the callous insensitivity of the government. "Stink terrible," was the way she remembered not only the horse stench but the authority's policy that demeaned her family by forcing them to live in a horse stall.

Fumiko had carried with her to Santa Anita a big, heavy duffel bag filled with goodies for the children. But it was much heavier than a luggage filled with candies, crackerjacks, and story books should be. To the kids, the luggage took on an aura of sweet mystery because she would not allow anyone, not even Daddy, to carry or even touch, much less look inside, that big bountiful bag of wonderful treats.

A few months later, the Takei family was to be moved again, this time to a place called Rohwer, Arkansas. For Fumiko, this was a journey into another dreadful unknown. A mother hen from the time she first became a mother, Fumiko became an even more fiercely protective defender of her brood. As she marched past armed guards, carrying baby Reiko in one arm and lugging the big duffle bag in the other, she glowered at every sentry as if they were about to assault her. When a guard might offer to help carry her bag, her glare blazed out like a flamethrower and she defiantly refused the aid with a stern "no thank you."

The train journey to Arkansas was arduous—three days and two nights on hard wooden seats. It wasn't until they arrived at the barbed wire camp called Rohwer and their new home, a single room in a black tar paper covered Army barrack, that Fumiko revealed the true content of her big duffle bag laden with mystery.

From beneath the candies, crackerjacks, and children's story books, she hefted out a heavy rectangular bulk wrapped in sweaters and baby blankets. When the blankets all came off, it disclosed, of all unexpected things, her brand new portable sewing machine! Anything mechanical with sharp edges or points was absolutely forbidden. She had boldly marched past dozens of armed guards and had smuggled in a contraband machine full of sharp edges and points. Daddy was aghast but her new sewing machine was the one thing she refused to leave behind to the vultures. "Children be needing clothes," was her simple explanation.

To Fumiko, as to all women in the camp, life was intolerable. Everything was public. The walls of the barracks were paper thin. Intimate conversation was well-nigh impossible. The latrines had no partitions—just a row of toilet pots. The shower was a long, barren room with a line of spigots and no dividers. Everything was devoid of privacy. It was humiliating. Fortunately, Daddy was elected block manager and she was able to get him to organize groups of men to build in some privacy panels in the latrine and shower room. The disadvantage of being married to the block manager, however, was that she had to constantly lose her husband to meetings, outbreaks of problems, and other emergency calls. But, in camp everyone had to make sacrifices.

Fumiko was not about to surrender to the angst of their condition. She was determined to make her own certainty out of their collective uncertainty; as certain as the window curtains she made with her sewing machine to get some privacy. She braided rags into a small rug for some comfort underfoot for her family. She brought in wild flowers and tree branches and created artful flower arrangements transforming a dreary barrack room into a semblance of home.

A year into internment, the government came down with the infamous Loyalty Questionnaire. Everyone over 17 years of age had to respond to a series of questions "testing" their loyalty to the U.S.—whether a 17 year old youngster or an 80 year old senior; male or female; an immigrant or an American-born citizen—all were required to respond. Fumiko took strong exception to two key questions—number 27 and 28. Question 27 asked "Will you bear arms to defend the United States of America?" For Fumiko, it was a preposterous query. She was the mother of three young children ranging in age from two to six. What was she to do? Leave them in a barbed wire camp guarded over by armed soldiers to go off armed to fight on some battlefield for a government imprisoning them? It was unthinkable and insulting. Question 28 was an affront both to her husband and to her; a two concept question in one sentence. Fumiko answered "no" to both questions. Fumiko and Takekuma were both classified "disloyals" and had to be transferred to a high security camp called Tule Lake in California.

The northern California camp was a cold, windswept dry lake bed, a harsh landscape barren of any foliage except for the spiny tumbleweeds that rolled aimlessly around the bleak, flat surface. Daddy was again elected block manager. But the highly inflamed climate at Tule Lake made his job intensely more challenging. These were people pushed and provoked to indignation. Many had become radicalized. The radicals agitated and challenged the camp administration relentlessly. They staged "banzai" demonstrations. The camp administration retaliated with midnight raids. Oftentimes they made wrongful arrests, which became cause for more demonstrations.

Within the camp, opinions differed and factions developed. The air was filled with rumors and hearsays. The camp became a fractured and chaotic pressure cooker.

As the turbulence of Tule Lake swirled around her, Fumiko's only concern was the wellbeing of her family. She made sure they had a comfortable home in their barrack room and fussed to maintain their health. Into this confused situation, the government threw in another frightening and incendiary threat. In December of 1944, it announced that Tule Lake would be closed in six months. In the middle of a bloody war, people who had been goaded into outraged anger were going to be released to an even angrier general population. Ironically, the barbed wire fence that confined the internees was also a protective barrier from attack by war crazed fanatics.

And to compound the terror, Congress passed the so-called "denaturalization bill," Public Law 405. It provided that an American citizen could renounce his or her citizenship on American soil in time of war. The relentless tide of anti-Japanese hysteria had produced another explosive and constitutionally indefensible piece of law.

The result was another convulsive wave of anguish and turmoil that swept up not just the radicals but all internees in Tule Lake. The radicals argued that the only way to prevent the closing of the camp and force the government to maintain the camp was to have the citizen internees renounce their American citizenship. The psychological pressure on Fumiko was unbearable. She and Daddy took long, tearful walks, the only privacy they could get, to agonize over all their options. Fumiko's sole concern was to keep her family safe and intact. It was not the radicals' pressure. It wasn't any notion of doctrine. Fumiko decided to force Washington to keep Tule Lake a safe haven for her family. She decided to renounce her American citizenship. She became a "denaturalized citizen."

World War II ended on September 2, 1945. The horrible war was over. But for Fumiko, another thunderbolt hit. It was devastating. The government announced that the renunciants of American citizenship were to be "deported" to Japan. Deported? She was born in California, not Japan. How could they justify her being "deported" to Japan? November 15, 1945 was the date the first ship was scheduled to sail for Japan. To her horror, Fumiko learned that she was listed to be on that ship. Her daring sacrifice for the safety of her family had backfired terribly. She and Daddy were consumed with grief and anguish by this new threat.

Wayne Collins, a brilliant San Francisco attorney and a passionate crusader for the fundamental guarantees of the Constitution took on the cause of all Japanese Americans. He argued "Renunciation was not a product of free will but forced upon them by the unlawful detention and the conditions prevailing in the Tule Lake Center, for which the government alone was responsible." Collins secured a mitigation hearing for Fumiko and the ship sailed for Japan without her. Wayne Collins had rescued not only her future, but that of her family as well. He fought fiercely to have Fumiko's citizenship reinstated and, years later, he succeeded. She was again a full American citizen.

The Takei family returned to Los Angeles. But it was to a postwar city—still hard and antagonistic to people who looked like the "enemy." Their first home back was on skid row among derelicts, drunkards, and other fellow returnees from camp. Fumiko insisted that Daddy had to get the children out of that horrible environment as soon as possible. But he felt the immediate urgency of helping those returning internees who had language challenges in securing employment. He opened an employment office in Little Tokyo. As unhappy as she was with this decision, she understood the need and conscientiously made the daily trek from skid row to Little Tokyo to help at his office. But she was also relentless in her campaign to get her family out of skid row.

After several months, he was able to find a dry cleaning shop with an apartment in back in the Mexican American neighborhood of East L.A. To Fumiko, this was only a stepping stone. She was determined to get back to their old Wilshire district neighborhood. She and Daddy worked long, hard hours and saved as much as they could. Amazingly, in four short years, they bought a three bedroom home in the mid-Wilshire district. The dry cleaning shop was sold and a grocery store became their business. Again, Fumiko pitched in at this new business as the cashier and Daddy became the butcher. The hours were long and tiring but the family's food bill was lower—it was wholesale.

Daddy was a business college graduate and had a good sense of business timing. When the Japanese American community was getting back on its feet, he went into real estate. People were ready to buy businesses and homes. The grocery store was sold and he became a success in real estate.

Fumiko was a good wife and mother, but she was also a dedicated and hardworking partner in every business that her husband undertook. Daddy fancied himself making all the major decisions in their marriage but, in fact, it was Fumiko who was the constant prod that moved their life along. One resolve that they shared in common was their determination to give their children a good education. All three were sent to fine universities, George at U.C. Berkeley and UCLA, Henry at USC and Marquette University, and Nancy Reiko at UCLA. Fumiko saw them all succeed at each their own chosen careers; George as an actor, Henry as a periodontist, and Nancy as a school teacher.

In her husband's retirement, they enjoyed traveling the world. Daddy was the researcher who prepared by reading up on all the countries they would visit and she was the one who simply enjoyed all the new experiences with her guileless observation, "very nice." It annoyed Daddy no end.

Fumiko passed after a prolonged illness on May 25, 2002.