About the Project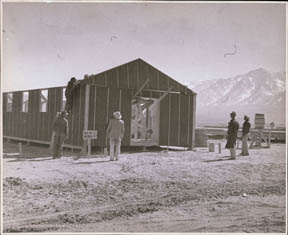 The Remembrance Project was an effort to build a permanent "living museum" online featuring the stories of those whose lives were forever changed by the signing of Executive Order 9066 by President Roosevelt on February 19, 1942. The order instigated indignities and injustices for over 285,000 people of Japanese ancestry residing in the U.S. and abroad. The project was conceived as a commemoration of the 70th anniversary of this historic event.
The Remembrance Project website, launched by the Japanese American National Museum (JANM) in 2012, enabled individual donors to honor loved ones affected by Executive Order 9066 and racial prejudice during World War II with a tribute and a donation of $90.66 or more. The Remembrance Project is now closed to new participants and new donations. Visitors can still explore the many tributes from individuals and families that are archived on this site. It is our hope that this simple but moving online collection brings to life the stories of strength, courage, and triumph of those who prevailed in spite of great obstacles.
As a private, non-profit 501(c)(3) organization, JANM relies on contributions from its members, donors, foundation partners, and corporate sponsors to provide the vital operating funds for its highly-regarded educational programming. The Remembrance Project was made possible through major support by the Project's Inaugural Circle of Remembrance Sponsors & Contributors.
If you would like to support JANM, visit janm.org/support to become a member or make a donation.
Photo credit: Manzanar, Calif., ca.1942. Gift of Jack and Peggy Iwata. (93.102.194)
Remembrance Project Committee
Advisory Committee
The Honorable Norman Y. Mineta, Co-Chair
George H.Takei, Co-Chair
Guy Watanabe, Co-Chair

Committee Members
Ernest Y. Doizaki
Glen Fukushima
Sybil J. Hampton
Douglas M. Goto
Nancy Kamei
John E.Kobara
Paul Kosasa
Joshua Morey
Gary S. Moriwaki
Candice T. Nakagawa
William G. Ouchi
Susan J. Onuma
Rena Miwako Wheaton
Harvey H. Yamagata
Gerald H. Yamada