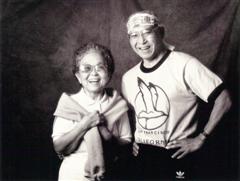 Camp Name:
Tule Lake
Block Number:
22 and then 19
Military Service:
Yes
Location during WWII, if not in a camp:
Miyeko was in Tokyo, Japan
Kazumi Kenneth & Miyeko


Watanabe Okamoto

Kazumi was born in 1920 in Folsom, CA. At 9 years of age (1929), he moved to Japan but returned the next year (1930) to Sacramento where his father opened up a hardware store with other partners. Kazumi was 13 years old (1933) when the family moved back to Japan. Upon becoming 19 years old (1939), his father sent him back to Sacramento to avoid being drafted into the Japanese Army. Before he left, he made a promise to his mother to return to Japan after 4 years to see her. Kazumi was a Kibei Nisei.

Pearl Harbor was bombed on December 7, 1941, and on February 19, 1942, Executive Order 9066 was issued. By April 1942, Kazumi (now 22) and his older brother, wife, and son were sent to Walerga Camp near Sacramento. Sadly, his brother lost his grocery store and they were then sent to Tule Lake. Our dad was a "No-No Boy." He said that his family agonized about how to sign the Loyalty Oath, and there were many discussions and arguments in camp about how to sign it. It split many families apart. Ultimately, he felt he had no choice but to sign "No, No" and not pledge allegiance to the United States because he promised his mother to return to Japan to see her. At Tule Lake, he lived with his brother's family in Block 22 and later moved in with some young men his age in Block 19. He never spoke much about life in camp. We didn't even know he was in camp or that the internment camps existed at all until we were in high school. The Nisei never talked about "camp."

The war ended in 1945, and Kazumi picked grapes in Lodi, worked as a bus boy in Sacramento, and with the DMV. In September 1946, he enlisted in the US Army. In 1947, he enrolled in the Army Language School in Monterey but was temporarily suspended when they found out he was a "No-No Boy." After receiving clearance, he was approved for the Military Intelligence Service (MIS) and "Top Secret" work. The irony of it all is that this man was once classified as an "enemy alien" (Tule Lake) but now able to freely enlist in the U.S. Army and work in government intelligence. The army sent Kazumi to Japan to work in MIS (1947–1953) for the Occupation Forces as a translator and interpreter.

In 1949, he met our mom, Miyeko Watanabe, who was also working for the Occupation Forces in Tokyo, and they were married shortly thereafter. Miyeko was born in 1918 in Kalihi, Hawaii. She worked in the pineapple cannery during the summers. After graduating from McKinley High School, she wanted to go to the mainland, but her father sent her to go to Japan to study pharmacy. Prior to the start of WWII, my grandfather sensed there might be some problems in Hawaii, and subsequently sent his wife and 2 other daughters to join my mother in Japan. Before he was able to join them in Japan, Pearl Harbor was bombed. Ojichan was stranded in Hawaii and separated from his family for the duration of the war.

Our Mom shared her Japan war-time memories of eating every grain of rice in the bowl because there was so little to eat. Military jets strafed the fields in Tokyo as Mom walked, carrying her sick younger sister on her back for miles to a hospital where she later died. We 3 children were all born in Tokyo while Dad worked for the U.S. Army. He became a career military man and moved the family back to the United States to Schofield Barracks in Wahiawa, Hawaii in 1953. Despite WWII's stressful years and living on a meager military salary after the war, our parents provided us with the most loving, warm, and fun-filled childhood anyone could have. Their hard work, perseverance and gentle kindness have been an inspiration to all who have known and loved them.