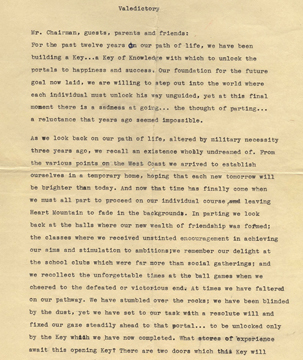 Camp Name:
Heart Mountain
Kikuye


Inouye Yamate

When our mother passed away in 2005, my sister and I unexpectedly came across a copy of her commencement speech to her high school graduating class of 1945. Her graduation was almost certainly unlike the graduation ceremony of her former classmates at Los Gatos High School in Los Gatos, California, where she longed to be. Instead, our mother graduated high school far away from where her birthplace and home, her family displaced by Executive Order 9066 and transported to a remote internment camp in Heart Mountain, Wyoming.

What belied the hopefulness of her senior class valedictorian speech was painful to learn. Her younger brother (my uncle) told me how our mother had left the internment camp a changed person—older and wiser to be sure—but also a little bit more cautious and wary of people. That vivacious and popular young freshman pictured in her Los Gatos High School yearbook left Heart Mountain a different person. Her loss of privacy, childhood friendships, and personal freedoms that we take for granted today tested her confidence, spirit, and trust in people.

My uncle recalled that near the end of the war, internees were allowed to go outside the camp into the nearby town of Cody to see movies and buy personal items. Our mother never left the camp until her family was officially released. She never talked about any details of the internment experience, except to say that it was hard and difficult. I sensed her discomfort and fear of what people thought of her after she returned to Los Gatos—that there was an inexplicable shame in being incarcerated in an inhospitable environment solely because of her ancestry. Yet, she was grateful for the education and friendships made in the camp and hopeful for the opportunities that lay ahead.

I've supported the Japanese American National Museum to honor our mother and her family during those difficult times. The National Museum tells a story not found in traditional history books—a story that would otherwise be lost but for the museum. It is a story about American democracy, its fragility and its strengths. It teaches us how this country can apologize for its mistakes and move forward and be stronger for having done so. The National Museum conveys the hope that our mother felt when she bid farewell to the Class of 1945 and the internment camp at Heart Mountain—a universal hope for all generations, for all Americans.