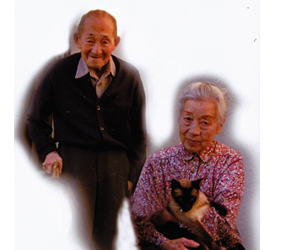 Camp Name:
Gila River
Block Number:
22
Barracks Number:
07
Masao & Toshiko


Mukai Iwawaki

I wish to pay tribute to my parents, who endured so much, but never gave up. Everything I have today, I owe to them.

My parents were Kibei (born in America, educated in Japan), neither Issei nor Nisei, of two culturally diverse worlds, speaking both English and Japanese. My father, Masao Iwawaki, was born in Bakersfield, California, in 1910 and with his parents returned to Japan as a child. Upon finishing high school in Yamaguchi, he returned to California alone and supported himself by working in a fish market and attending high school here. Those years must have been extremely difficult, for he later talked about going hungry trying to survive on his own. Old photographs, however, show a dapper young man arms around friends, traveling to Yosemite, attending the Olympics in Southern California, enjoying the best of his youth. After receiving his high school diploma in Bakersfield, he moved to San Francisco and attended Heald's Business College while living and working for a family in the city.

My mother, Toshiko Mukai, was born in Seattle, Washington, in 1914, the second of four daughters and was sent to Hiroshima as a child to be raised by her maternal grandparents while her parents remained in Bakersfield. As a teenager she was called back to California to help the family when her father became ill. Of the four daughters, she was the only one who survived to adulthood. Her life seemed to be one of constant service to others until she met and married my father and moved to San Francisco.

When Executive Order 9066 was declared, my parents were just beginning their lives as a young family with two daughters, ages 5 and 7. My father was working as a salesman for a Japanese import-export company and my mother, a homemaker, remembers the FBI coming into our home, searching for items that showed any sympathy to the Japanese government.

My father believed the area in Central California was where Japanese would be exempt from being sent to concentration camps, so we moved to Fowler, California to live with relatives. However, the order came for all Japanese to move to the camps, and we were sent to Camp 1 in Gila River, Arizona.

When all of the internees were required to sign the loyalty questions 27 and 28, my parents responded "No-No" and the family was relocated to Tule Lake, California, a segregation center. I always thought my father answered "No-No" because he felt he should return to Japan as he was the eldest son. However, a few years before he passed away he told me he answered "No" to the loyalty questions because he was angry at the United States government for sending U.S. citizens to the concentration camps.

During those years in Tule Lake, my father worked in the co-op earning $16 a month. My mother helped in the mess hall, and my sister and I attended Japanese school in the morning and American school in the afternoon.

After over three years behind barbed wire, our family left Tule Lake on December 26, l945 and returned to San Francisco, where we lived at the Hunter's Point housing project for a brief transition period. Eventually we moved into a one-room apartment in Japantown. Our "kitchen" was a two-burner hot plate in what must have once been a closet and the communal bathroom was down the hall. Because of such horrible living conditions, our parents quickly managed to buy our own house near Japantown.

My mother, an expert seamstress, worked at Koret of California for 31 years—first in the factory and then as a sample maker for designers in the main office. She was the first Japanese American hired after WWII. My father worked first for the Naval Shipyard in Hunter's Point and then for Koret as an accountant and personal bookkeeper for Mr. & Mrs. Joseph & Stephanie Koret.

Their retirement years were spent in the Berkeley Hills where they lived for 36 years. They spent those years doing what they liked best—fishing throughout California…surf fishing at various ocean beaches for bass and perch, going out on a party boat for striped bass and salmon, trout fly fishing in the mountains, taking grandchildren to the trout pond at Tilden Park, and when traveling distances became difficult, trout fishing at San Pablo Dam. My father's other passion after retirement was learning about and investing in the stock market. He would spend most of his mornings at the brokerage and, when his health began to fail, continued watching the stock market quotations on cable TV from his bed. My mother continued sewing for her children and grandchildren and made beautiful quilts.

They both worked hard all their lives, meeting their responsibilities, providing a home for the family, sending both of their children to the University of California, Berkeley.

Despite some very difficult years and having to begin their lives all over again at the end of World War II, they had a happy, long, and productive life. They had 5 grand children and 3 great grand children.

My father died in 2002 at the age of 92 and my mother in 2011 at the age of 97. They set a great example for our family to follow and with this tribute, I hope they will never be forgotten.