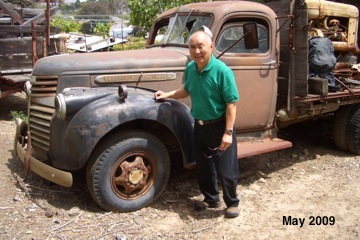 Noboru & Kikuyo


Hiroshige Iwata

My parents were a farming couple. Their farm was located next to the beach hamlet of San Onofre, CA; on a low mesa that extended out to a cliff where it dropped to a sandy beach of the Pacific Ocean. Papa took advantage of the moist ocean breeze that provided an ideal climate for growing vegetables (like beans, peas, and berries). During a low tide we would go out to dig for clams, and on a clear night when the moon was full grunions would wash ashore to spawn.

It was a dream farm that we would always remember … soon to leave, and never return.

Immediately after President FDR signed Executive Order 9066, the FBI came to arrest Papa (a Kibei Nisei) because our farm was located on the coast. When they found out he was an American citizen by birth they gave him six weeks to move out of California.

This was our brand new 1941 GMC truck. Papa hammered together a plywood cover over the rear bed of this truck. He placed a bed mattress inside then loaded it with house hold items … leaving sufficient space for Mama to lie on the mattress (for the two day trek to Page Ranch twenty miles west of Cedar City, UT).

Mama was eight months pregnant.

I was eight years old and remember the endless ride on a two lane asphalt road through Nevada chasing mirages, reading Burma Shave signs, and watching the tall columns of dust from the whirl winds. Papa would grind the transmission as he shifted gears. He never learned to "double clutch." My two older brothers (fourteen and sixteen) drove the ten wheeler 1937 Dodge truck loaded with farm equipment. And of course, no one had a drivers license back then.

Mama gave birth to another boy soon after we arrived in Utah, and named him "Yutaka" after the State of Utah.

"Life is Change." GMC (General Motors Corp.) is now Government (bailout) Motor Corp.