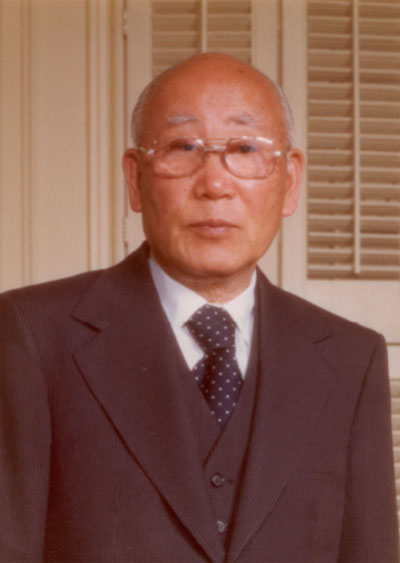 Takekuma "Norman"


Takei

Takekuma "Norman" Takei was born in Yamanashi prefecture in central Japan in 1902. He lost his mother early in his childhood and was brought to San Francisco, California, by his widower father, Yataro Takei, when he was 12. He loved baseball and as a teenager, traveled the Bay Area with the Japantown Seals baseball team. He finished high school and graduated from Hills Business College. He loved San Francisco but it was to the booming southern California city of Los Angeles that he came to start a successful dry cleaning business in the Wilshire district near the fashionable Bullock's Wilshire department store.

In 1935, he met and married Fumiko Emily Nakamura from Florin, California. Three children quickly followed; two boys and a girl. An Anglophile, Takekuma named the two boys after English kings; the first son, George, for King George VI because the baby was born in 1937, the year of the Royal coronation. The second boy, a big, chubby infant as fat as the rotund King Henry VIII, was named Henry, of course. The third child and only girl, he and Fumiko named Nancy Reiko for a friend they admired.

The bombing of Pearl Harbor in 1941, changed their lives cataclysmically. President Franklin D. Roosevelt signed Executive Order 9066 which directed all Japanese Americans to be evacuated from the west coast. The Takei family was ordered out of their home on Garnet Street by armed soldiers and forced to stay in the horse stables of nearby Santa Anita Race Track. Takekuma never forgot the degradation and humiliation he felt having to have his young family sleep in a narrow horse stall still ripe with the stench of horses.

Barbed wire camps were being built while the internees were temporarily held in these so called "Assembly Centers." When construction was finished the people again had to move. The Takei family was transported two-thirds across the country to the swamps of southeastern Arkansas to a camp bristling with barbed wire fences, guarded by tall sentry towers, euphemistically called, Rohwer Relocation Center. The "evacuees" were in fact, innocent American citizens imprisoned without charge, trial, and due process of law.

Life in the swamp was arduous. When it rained, the whole camp turned into a big, mucky bog. For old people and mothers with young children the thrice daily trek to the mess hall for meals became an impossible ordeal. A boardwalk connecting the barracks to the mess hall and latrine became an urgent need. The men organized into teams to build the indispensable walkways to food and sustenance. Takekuma was fluent both in English and Japanese, thus enabling him to easily communicate with both the older immigrant group as well as the English speaking Nisei generation. He didn't particularly consider himself a leader, but he acutely felt the needs of those with whom he shared a common circumstance. When he was asked to serve as block manager, he willingly accepted the urgency of serving. As block manager, his role became a combination of representative of the block, liaison with the camp administration, arbitrator of disputes within the block, and, to some, even a marriage counselor.

A year into internment, the government came down with the notorious Loyalty Questionnaire, a series of questions to ascertain the loyalty of a people they had accused of disloyalty with no basis in fact. Many of the questions were sloppily written, the most insidious of which was Question 28. It was one sentence with two concepts. It asked the respondents to, "swear unqualified allegiance to the United States" and in the same breath, "foreswear allegiance … to the Japanese Emperor." If one were to answer "yes" intending an affirmative to the first part, he or she was also "foreswearing" a presumed existing loyalty to the Emperor of Japan. If one were to answer "no" to deny any preexisting loyalty to "foreswear," then the same "no" also rejected allegiance to the United States. It was an outrageous question. Compounding it for Takekuma was the fact that immigrants from Asia were the only group denied naturalized U.S. citizenship. Although born in Japan, he had come to the U.S. as a child, was reared and educated here and intended to live out his life in America. Yet, he could not become a naturalized citizen simply because of race. A nation that discriminated against him, then imprisoned him and his family for no cause was now demanding "unqualified allegiance" from him while imprisoned behind barbed wire fences. It was an offensive and contemptible demand. Years later, he said to his son, "This government took my business, our home, and our freedom. The one thing this government won't take form me is my dignity." He answered the question with an incensed "no!" And for that, he was labeled "disloyal." He had to be transferred to another camp with more heightened security called Tule Lake.

The Takei family was again put on a train under armed guard and transported back to California, but this time, not to the warm climate of the south, but to a camp in the north near the Oregon border, a chilly, windswept, dry lake bed with three layers of barbed wire fencing. And again, Takekuma was elected to serve as block manager. Tule Lake was a turbulent camp made up of people who had been goaded into outrage by a government blinded by war hysteria. There were young men who had become radicalized by the callous treatment of an unfeeling government. They challenged the camp administration at every turn. There were demonstrations and there were riots. There were many arrests, a number of them wrongful. A concrete jail was constructed to house those arrested called "the stockade." It was a prison within a prison camp.

The war ended in 1945 and the Takei family returned back home to Los Angeles. But the City of the Angels had become a cold, hostile place for Japanese Americans. Employment and housing was next to impossible. Their first home back was a skid row hotel room downtown. Takekuma's first job was as a dishwasher in a Chinatown restaurant. The people from camp, however, still looked to him as their block manager—seeking his assistance as their counselor and problem solver. They needed his help in finding jobs. So he opened an employment agency in Little Tokyo to aid them in finding work. It was a heartbreaking calling. The only employment he was able to find for them was as janitors, dishwashers, and house workers—jobs that paid a bare pittance. After getting the initial wave of returnees settled, he closed the employment office and again found himself a dry cleaning shop in East Los Angeles with an apartment behind it for his family. He and Fumiko were starting out all over again with nothing but strong determination to work hard and get back on their feet.

Working long, tiring hours, they carefully built up a small savings. The children were growing and they were concerned about their future. They wanted their children to have better education in a better neighborhood. Good schooling, they firmly believed, was essential for them. In 1950, just four years after returning from the camps, they were able to buy a three bedroom house back in their old mid-Wilshire neighborhood.

Takekuma sold the dry cleaning shop and bought a grocery store on Western Avenue in south Los Angeles. A few years later, he sold the grocery and went into real estate where he found his success.

America was beginning to change. In 1952, Congress passed the McCarran-Walter Act which revised the language of citizenship naturalization to, at long last, grant naturalization to immigrants from Asia. Takekuma could now become a citizen. Even after he had put in a full day's work, he poured his energy into the study of American civics and history. He had lived through the nightmare of America's shortcomings, but he keenly appreciated the glory of its ideals. He once told his son, "Both the strength and the weakness of American democracy is in the fact that it's a true people's democracy. It is as great as the people can be, but it is also as fallible as people are. It's dependent on good people being active participants in the process. I want to participate." He took the test and officially became an American. To mark the occasion, he gave himself the English name "Norman" as his middle name.

But he and Fumiko felt that their greatest achievement was in educating their three children and setting them up for their futures. All three were sent to fine universities, George to the University of California at Berkeley and to UCLA, where he earned his B.A. and M.A. Henry to the University of Southern California and Marquette University in Wisconsin where he received his dental degree, and Nancy to UCLA and her B.A.

In his retirement, Takekuma again contributed to the Japanese American community serving on the Board of Directors of the Little Tokyo Towers, a low income residence for seniors, and was one of the founders and a Board member of the Pioneer Center, a senior social service center. In the arena of politics, he hosted in his home a fund-raiser for Councilman Tom Bradley's campaign for Mayor of Los Angeles. But his happiest political experience was working as a volunteer in his son George's campaign headquarters when George unsuccessfully ran for a seat on the Los Angeles City Council.

Takekuma and Fumiko enjoyed travel and were particularly venturesome. They loved exploring exotic places—the Soviet Union, Kenya and Tanzania, Iran, India, the South Pacific, and more popular tourist destinations such as London, Paris, Venice, Australia and New Zealand, and, of course, Japan and all over the U.S. After a long illness, Takekuma passed at age 76 on September 22, 1979, of an illness he contracted on one of his exotic travels.