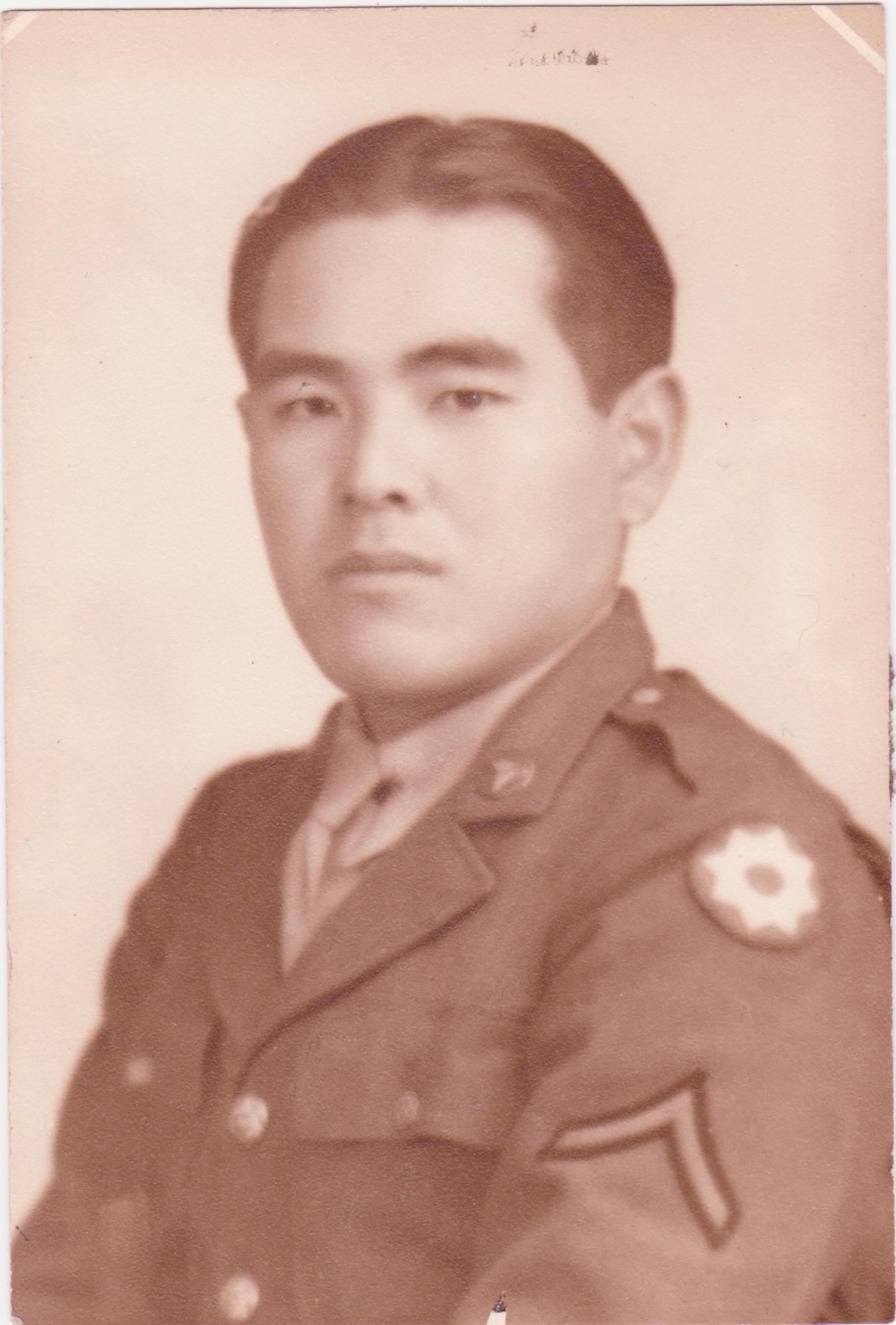 Military Service:
Yes
Location during WWII, if not in a camp:
Fort Snelling, Minnesota, Fort Robinson, Arkansas, Philippines, and Korea
Yoneto James


Nakata

My name is Mary (Nakata) Sunada. This is my personal journey to find my unforgotten father who I never knew.

His name was Yoneto "James" Nakata. Yoneto was born on November 25, 1918, in Sanger, California. His parents, Suyetaro and Riye, were farm laborers and had to return to Japan after his mother became sick. In 1935 after his parents had died in Japan, Yoneto returned to the U.S. and was drafted into the U.S. Army in July, 1941. After Pearl Harbor, he was sent to an Army hospital in Arkansas as an orderly. His relatives were in a relocation camp in Jerome, Arkansas.

In 1944, he volunteered for the Military Intelligence Service. Yoneto spent 9 months of language classes at Fort Snelling, Minnesota and graduated in May, 1945. He was shipped out to the Philippines in July, 1945 and to Korea in September, 1945 to assist in the return of Japanese soldiers and civilians back to Japan, and to translate enemy documents. He returned to the U.S. and was honorably discharged in January, 1946 with the rank of Sergeant. Later, Yoneto returned to Japan as a translator for the Allied Occupation Government and married my mother, Yaeko Niikura, in 1947. I was born on January 1, 1948 in Tokyo, Japan. He suddenly died on May 1948 at the age of 29. My mother became a widow at 21. I was 6 months old living with my grandmother in Japan until I was 2 when my mother remarried and brought me to the U.S.

I grew up believing my step-father was my real father until I was 10 when my friend, Leslie, told me the truth. I saw a single picture of my father's military funeral service at Evergreen Cemetery in Los Angeles and later his ashes were returned to Japan. I felt emptiness by my father's absence. When my sisters, Marian and Jackie, were married, their fathers gave them away. When I married John Sunada in 1980, my uncle Kazuhiko walked me down the aisle. My life became busy with working and raising our sons, James and David.

My mother's memory was fading away since she was later diagnosed with Alzheimer's. She had saved military documents, old pictures, passports, an American dictionary, an old address book, and my father's American flag with 48 stars. John and I wanted our sons to know something about their grandfather. With these papers, we wrote to the National Archives about his unit, the 10th Anti-aircraft Brigade and acquired 7 medals with the help of Congressman Esteban Torres. With the help of Congresswoman Linda Sanchez, my father was awarded 3 additional medals, especially the Presidential Unit Citation. I made an acceptance speech and was presented with these medals at the Artesia Veteran's Day Ceremony on November 7, 2009. The ceremony was published in the November 10th issue of The Rafu Shimpo.

John and I were fortunate to attend the Congressional Gold Medal Ceremony in Washington, D.C. and received a bronze replica on November 2, 2011. On July 3, 2012, I received another medal by Congresswoman Linda Sanchez on behalf of my father. I was privileged to be interviewed on July 24, 2012 by TV reporter Suzie Suh. The story was aired on TV Channel 2 about a daughter's journey to find her late father's fate and to learn he was a WWII hero. Sadly, my mother passed away from Alzheimer's on April 30, 2013. On August 27, 2013, I received 2 additional medals from the Philippines Republic on behalf of my father.

I am deeply grateful and appreciative of my father whom I never met. He is my unforgotten father and my hero. He showed dedication to his country and family and I am proud to see his name on the "Go for Broke" Monument. We want his legacy to live on through the Remembrance Project and through our sons.